During COVID-19 our kitchen is open to provide a school pack lunch, which includes a sandwich, crisps and a piece of fruit.
What's for Dinner?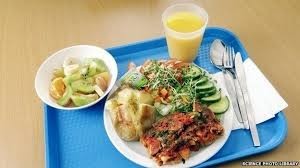 The school cook and her staff prepare nutritionally balanced school meals, which includes a choice of three main courses and desserts. The set meal of the day (dinner and pudding) is currently £2.30 per day. Water is provided. With effect from 1 September 2014, children in FS2, Year 1 and Year 2 are eligible for free school meals as part of the Governments universal offer of free school meals.
Free School Meals
If you think your children are eligible for school meals more information can be found here on the NCC website.
Our website to pay for dinners is: www.scopay.com/stphilipneriwithstbedecatholicprimary