Catholic Life
Our School Virtues
From April 2022, our school launched Our School Virtues based on the work in the Diocese of Leeds on virtues and character education. (See companion documents here dioceseofleeds.org.uk/education/re-catholic-life/character-education).
Our School Virtues enables us all to explore each virtue over the period of a year with the overarching aim of improve the school community's virtue literacy and to deepen understanding and appreciation of the essential role that virtues play in the education of the whole person towards human flourishing.
The school focuses on one virtue each half term. The children think about what the virtue means, how we can see it in others and how we can manifest it in ourselves. When children are seen by adults living out this virtue, a coloured token is rewarded to them. These tokens are added to each class' token jar and are converted into Dojo points. The class with the most tokens at the end of each half term receive a reward of their choosing.
Acts of worship and class liturgies also link to the virtue and, from September 2022, displays in communal areas of school will help children live out each virtue.
Our virtues have been chosen to reflect the time of year for our children. So for example, we have 'Courage' at the beginning of the year when we are beginning a new school year with a new class teacher and 'Solidarity' for the Advent 2 term to develop and promote that we're all part of a class and school community.
To find out more about each virtue, click below:
Faith
Hope
Love
Justice
Courage
Solidarity
Temperance
Sense
Charitable Acts 
As a Catholic school, we are fully committed to providing opportunities for our pupils to grow as missionary disciples of Christ. Charitable acts forms part of this. So far this year, we've already raised £624.33 for CAFOD's Go Green campaign.
Further to this, all children throughout school were provided with the opportunity to research and present to their peers information about a charity. Following the presentations, class votes were counted and the charities that each class will support this year were chosen. Click below to see which charities each class are supporting this year.
Prayers 
Prayer forms part of daily school life at St. Philip Neri with St. Bede. Our daily prayers can be found below:
Holy Communion 2021 
Congratulations to our Year 4 pupils who made their First Holy Communion on Saturday 2nd October at St. Philip's Church.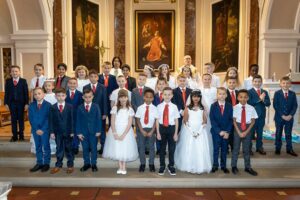 Congratulations to our Year 5 pupils who made their First Holy Communion on Saturday 6th November at St. Philip's Church.